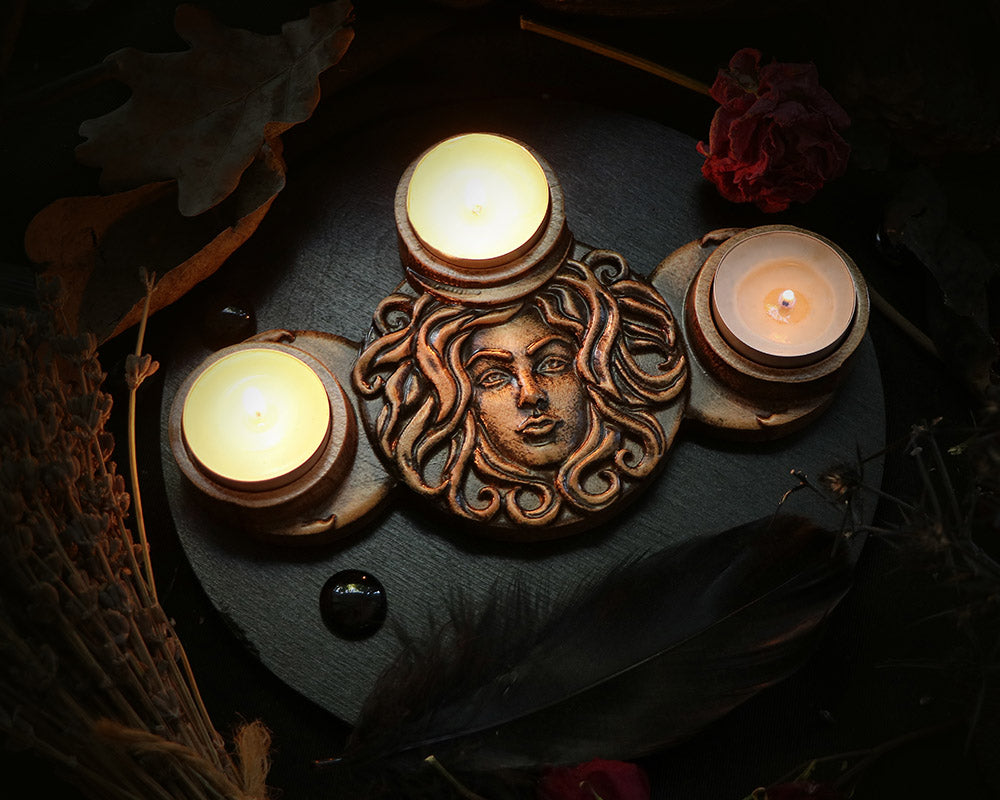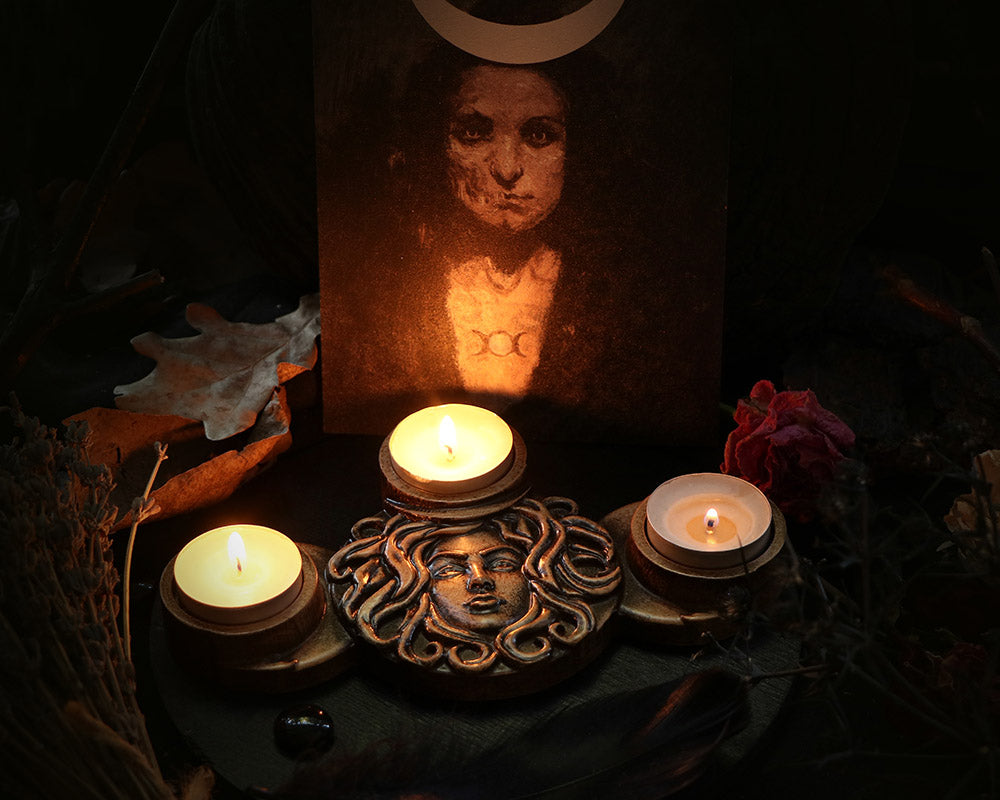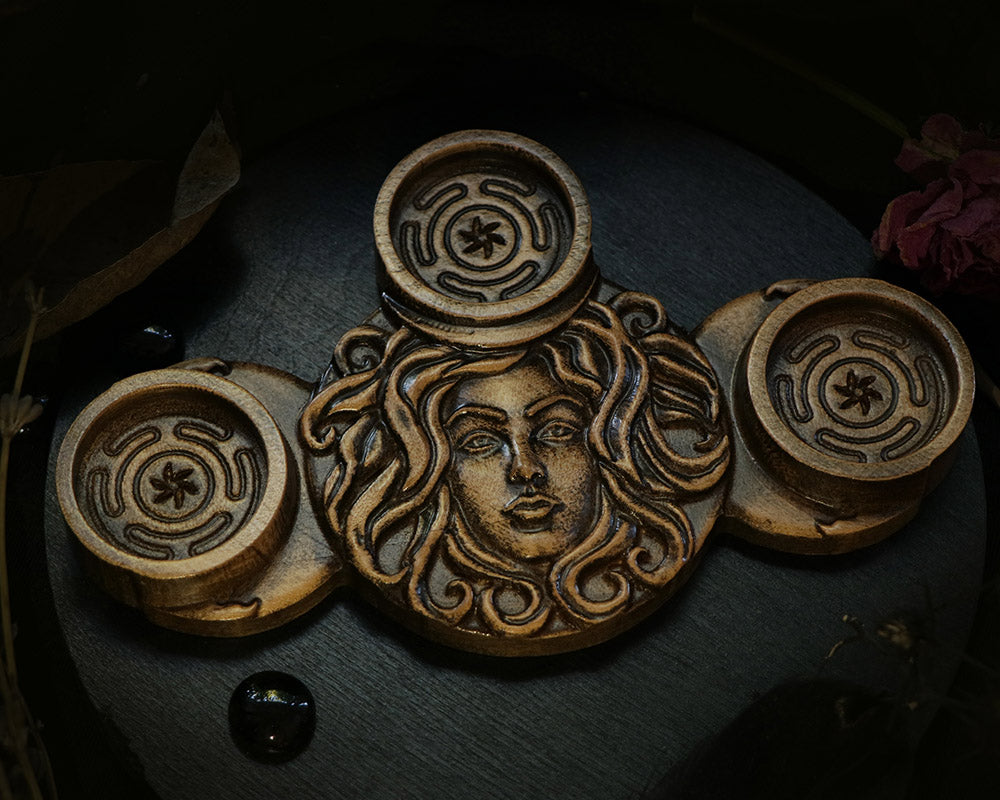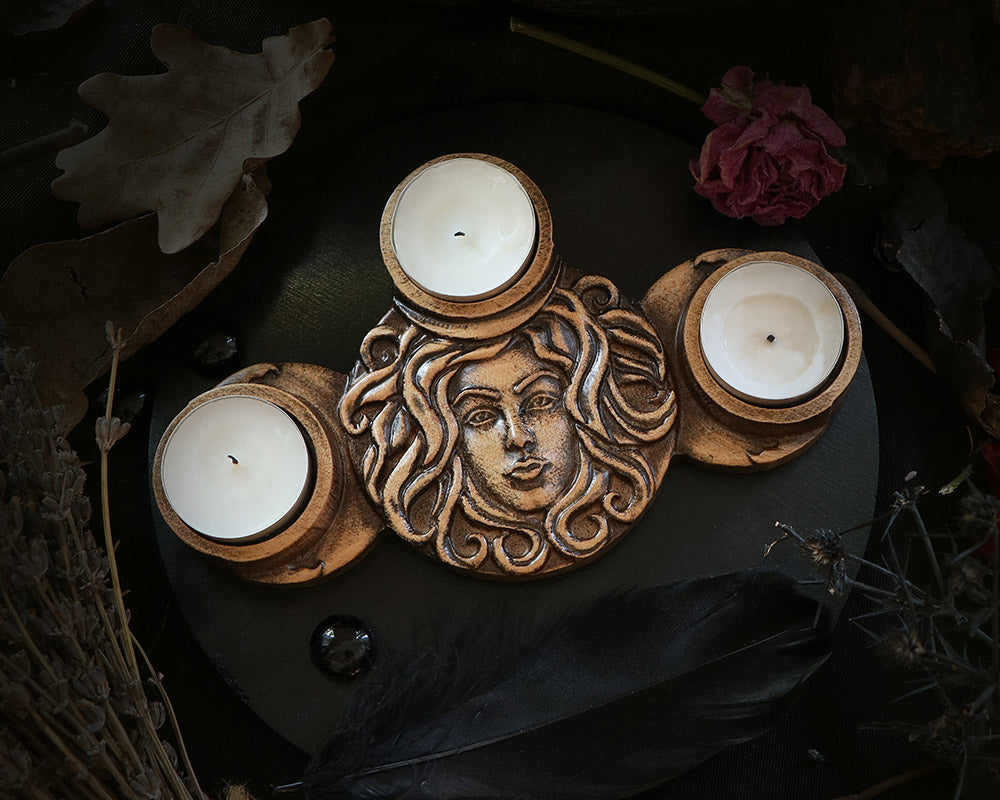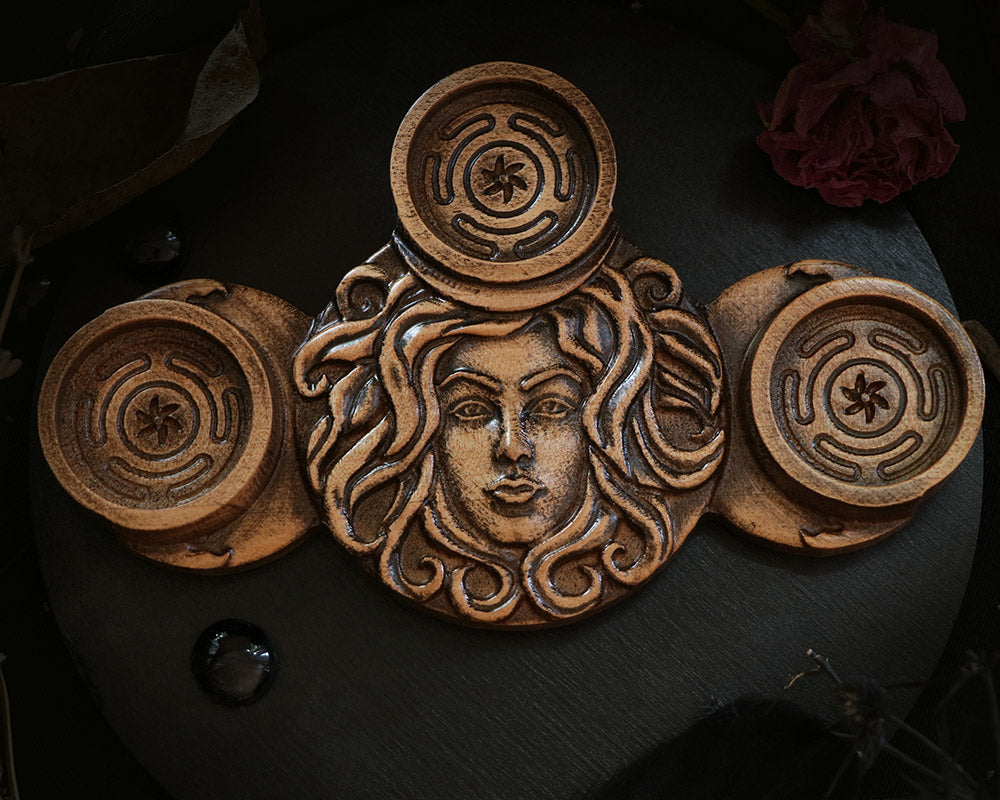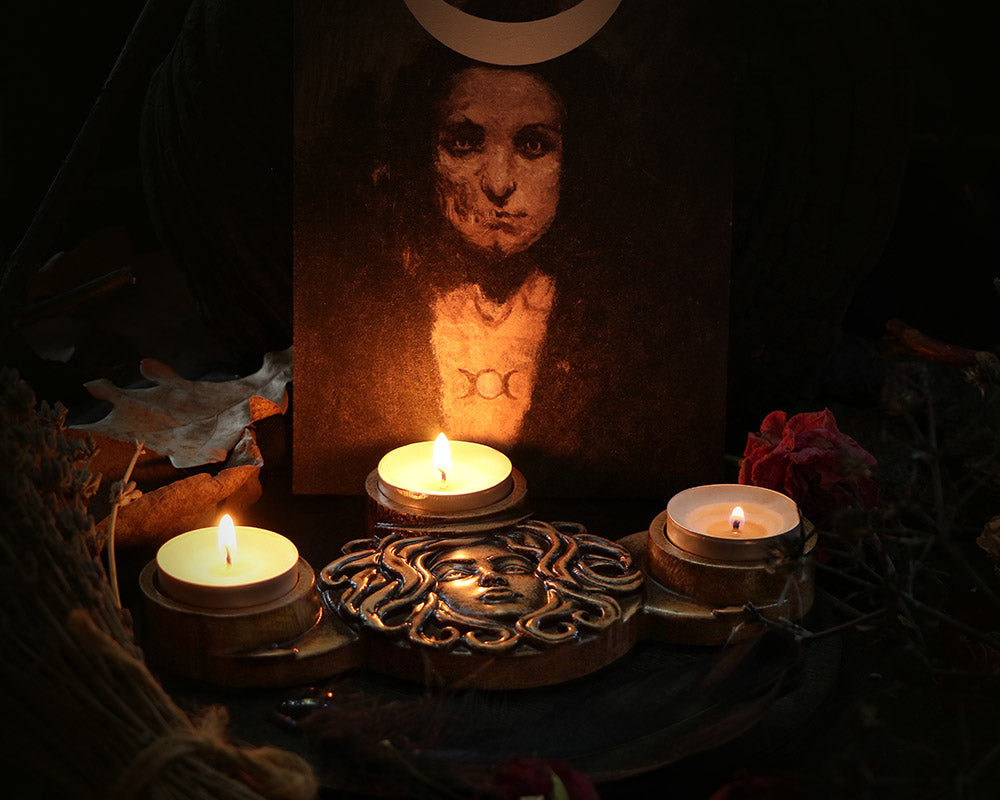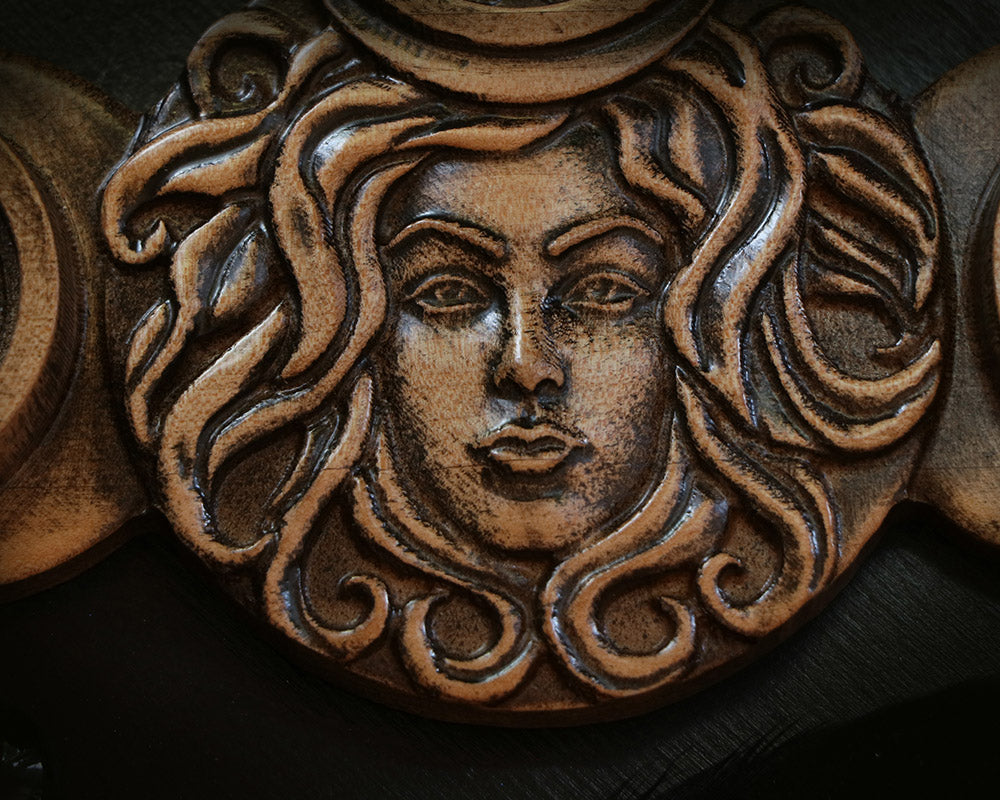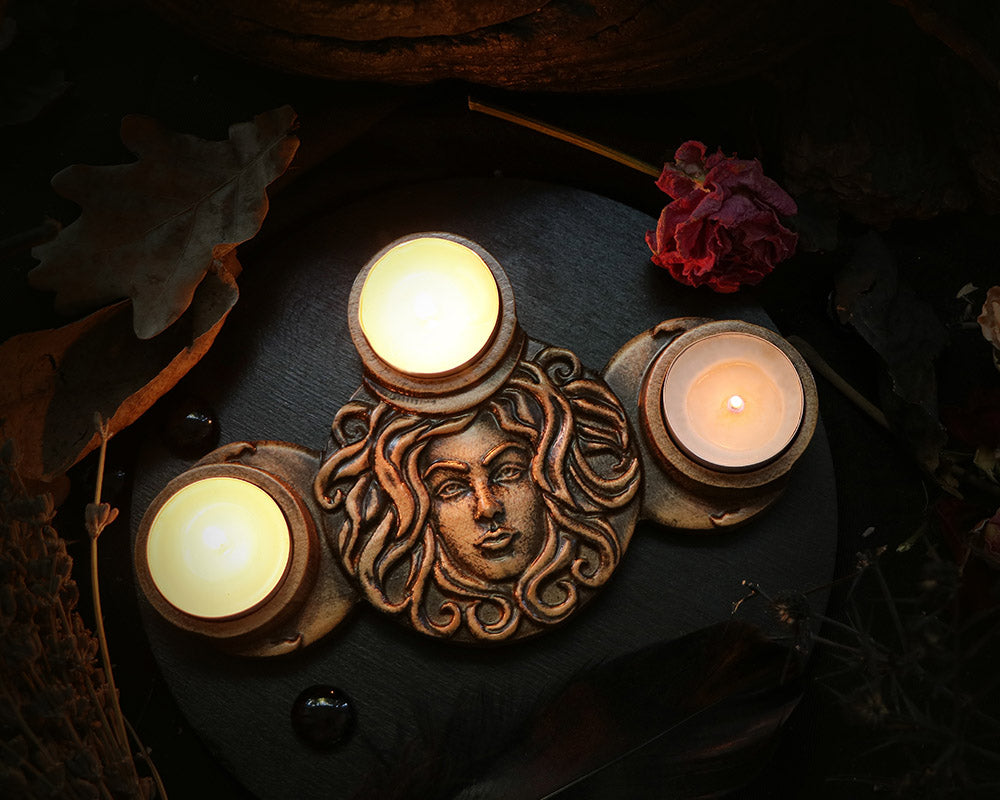 Wooden Candle Holder Inspired by the Hecate Goddess
At the heart of this wooden candle holder, the countenance of the Hecate goddess emerges, casting an aura of mysticism over your sacred space. With a Hecate statue as its centerpiece, this altar item becomes an embodiment of her powerful presence, symbolizing her role as the guardian of crossroads, magic, and the unseen.
Three meticulously crafted niches encircle the countenance of Hecate Goddess, designed to cradle altar candles. Each niches for candles adorned with the Strophalos symbol—an emblem of her dominion over earth, sea, and sky. The Strophalos symbol serves as a reminder of Hecate's multifaceted nature, and the profound cycles of transformation she oversees.
As you kindle the flames upon the altar candles, the dance of light and shadow transforms the ambiance of your sacred space. This altar decor honors Hecate and draws you into a realm where ancient wisdom meets contemporary spirituality. The interplay of light and darkness mirrors her role as a guide, aiding seekers in traversing life's intricate paths.
This wooden candle holder serves as a connection to the roots of Wicca and witchcraft, offering a tangible link to the goddess Hecate. As a key element of your Hecate altar kit, it not only enhances your altar's aesthetic but deepens its significance. It's more than just witch altar decor; it's a vessel for intention, a focal point for meditation, and a channel for your spiritual practices.

* Size of candle holder is:
Width:7.5inch or ( 19.3 cm );
Length: 4.6 inch or (11.8 cm);
Height: 0.7 inch or ( 1.8 cm );
* Material: Wood, varnished Ash-Tree

*** DO NOT LEAVE BURNING CANDLE UNATTENDED ***

*This product is created to order: from date of purchasing to shipping it takes 3-5 days.
*Each woodcarving product is unique, and will be a little bit different from the one you see on the photo on monitor you are using.


*** Please be attentive to the information about international delivery which you can find there 

Design and copyrights by Pagan-Workshop