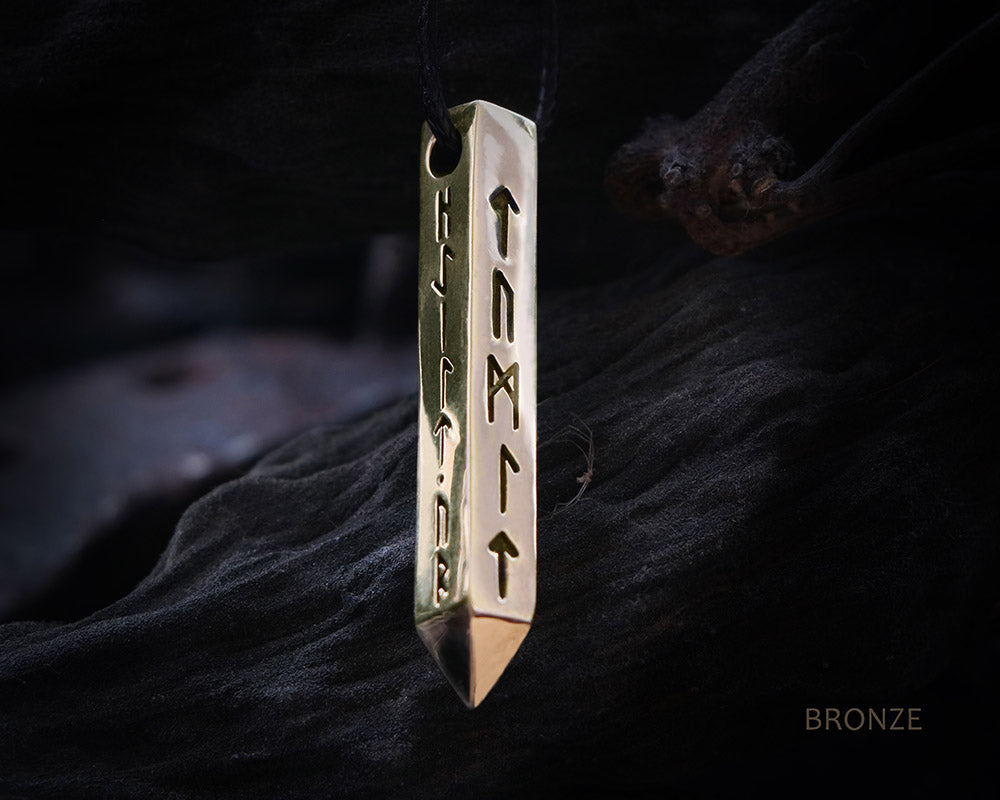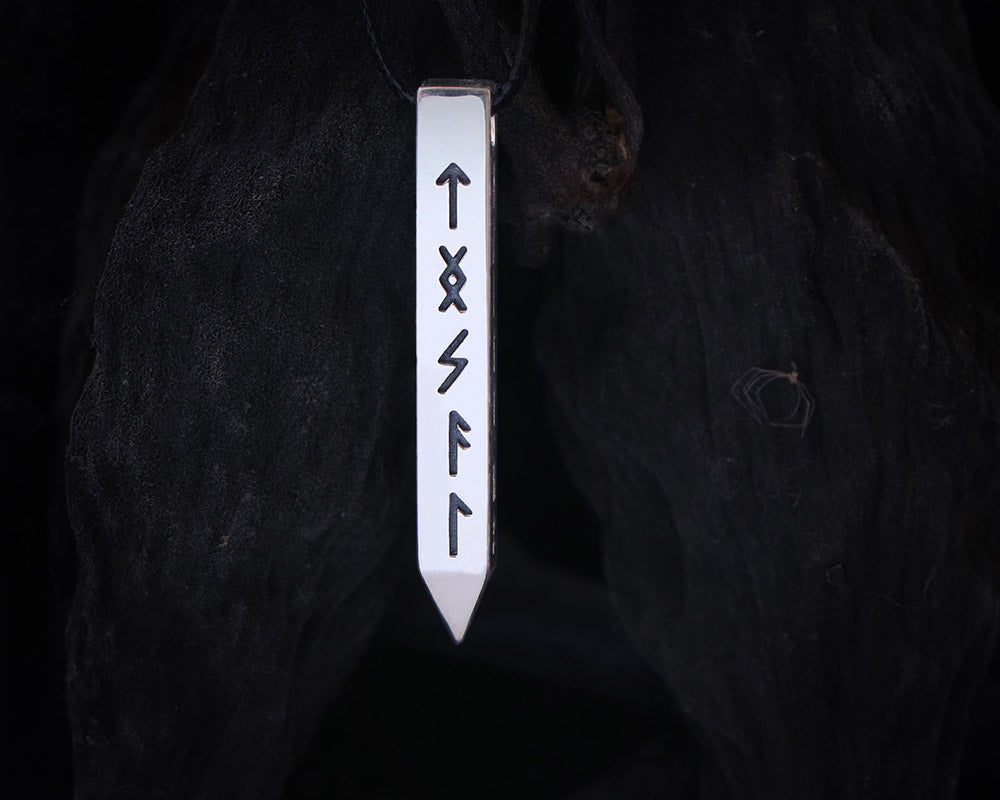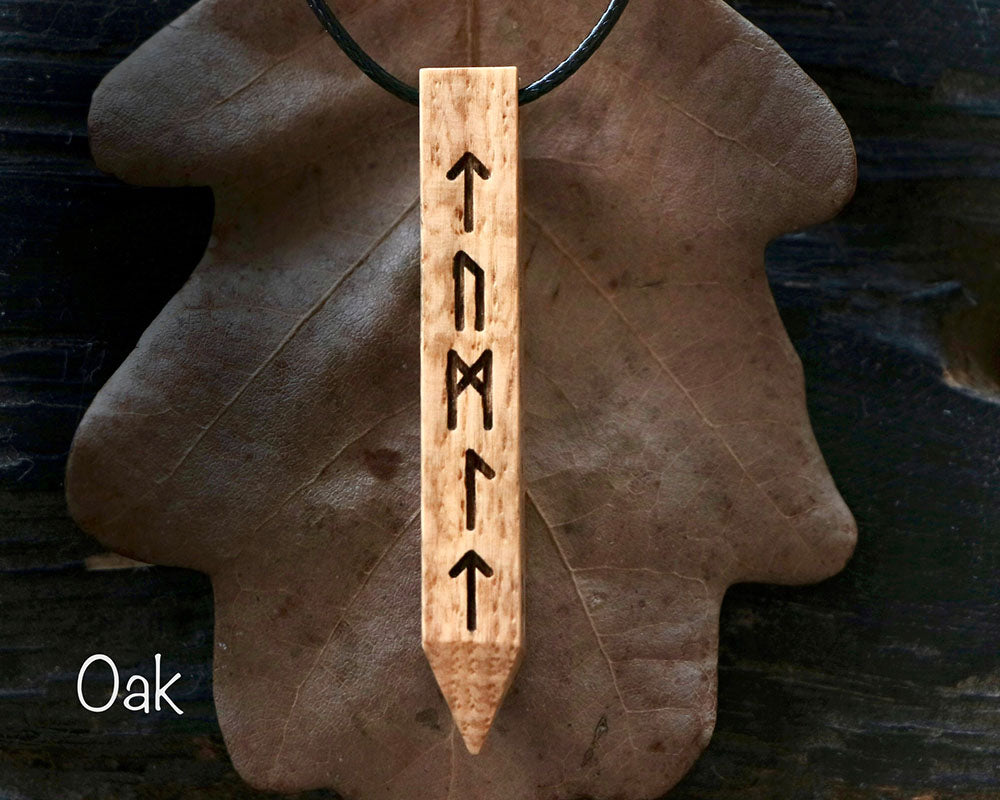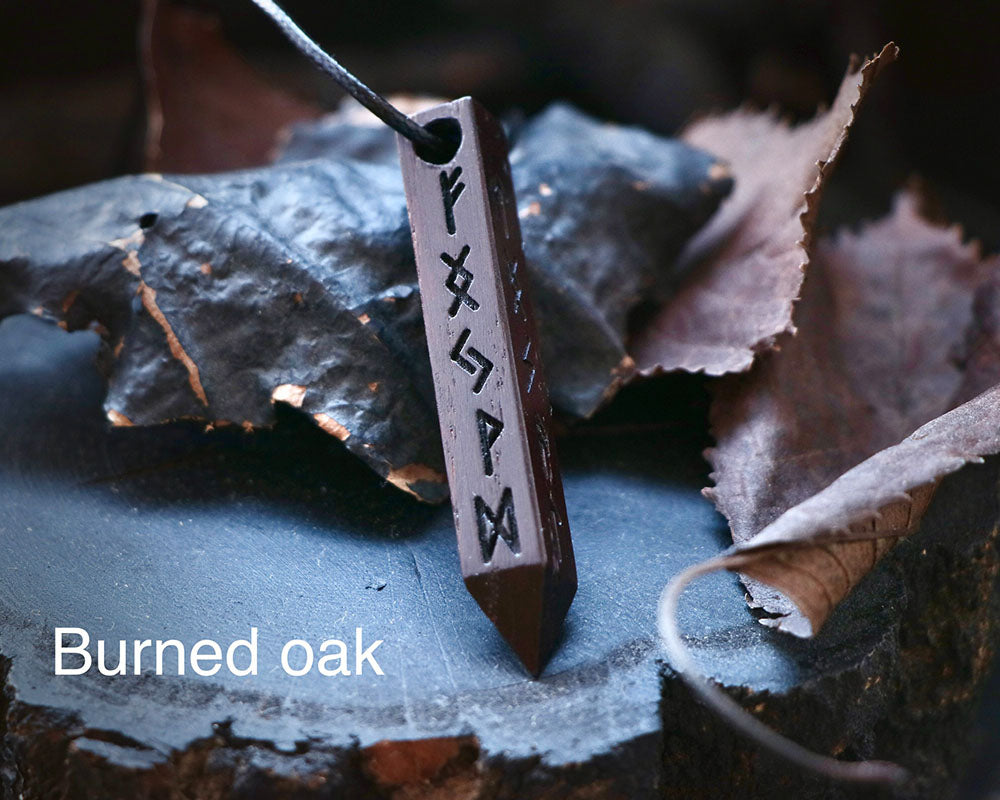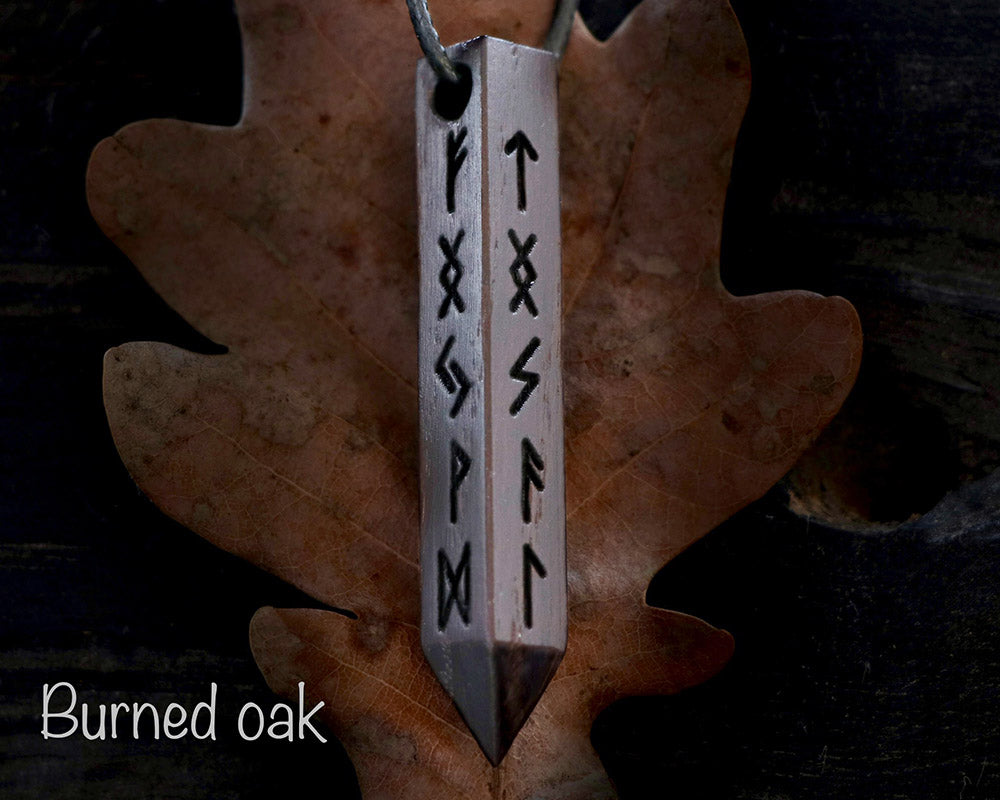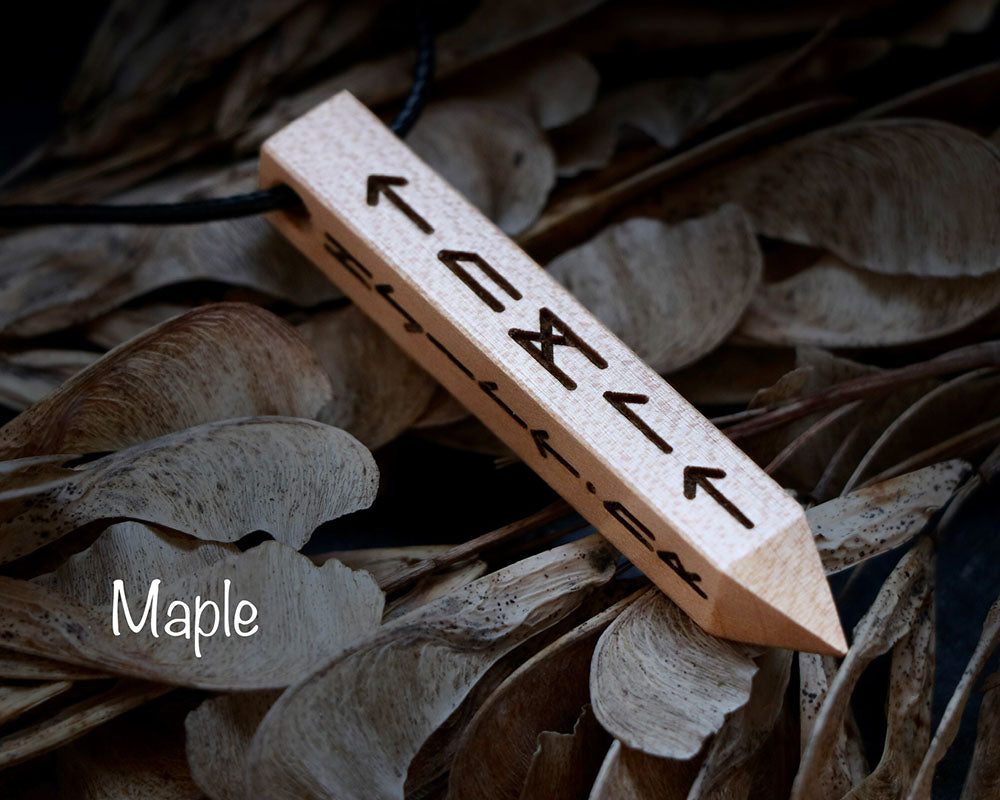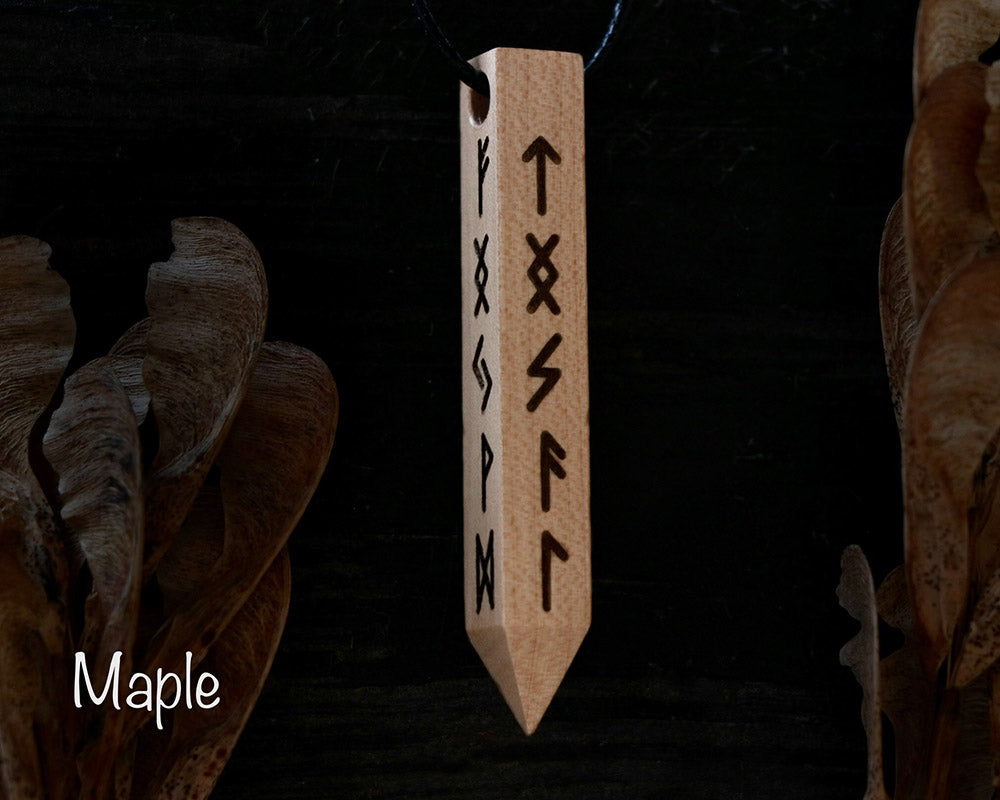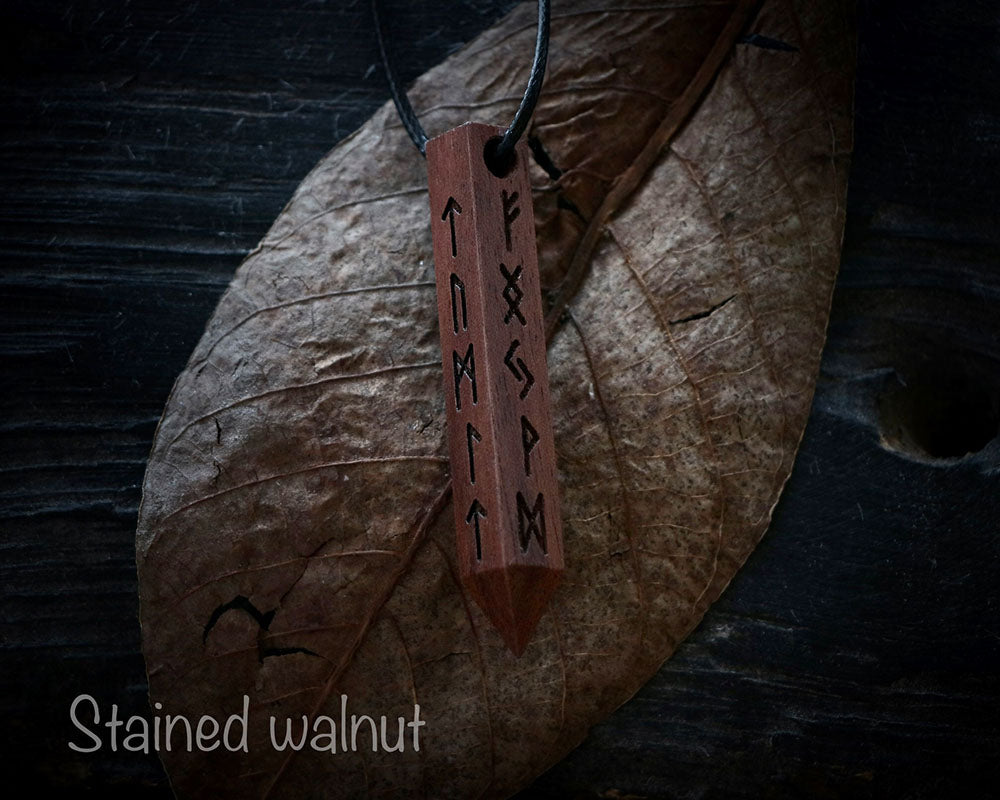 RUNES AMULET for reinforcement magical abilities
Material:
925 Sterling Silver
* Necklace length:29.5" or (75cm)
* RUNIC AMULET: 1.6x0.2 inch or (4.2х0.6 cm)
* Material: Silver plated Brass. 925 Sterling Silver. Gold Plated Brass. Bronze. German Silver.
* Black cotton cord (length of necklace can be adjusted with sliding knots)

* Also this Necklace available made of Wood.
* Necklace length:29.5" or (75cm)
* RUNIC AMULET: 2x0.3 inch (5.5х0.8 cm)
* Material: Oak, Maple, Walnut and Burned Oak, all wooden necklaces is varnished. 
* Black cotton cord ( length of necklace can be adjusted with sliding knots)

The path of training and formation is never smooth and easy to take. That is why at the beginning of the path every magician faces difficulties and obstacles of different kind. During these moments he or she needs reinforcing of him- or herself to overcome them and to have an opportunity to move further. There is the very aim this amulet is used and made for.
Its function of reinforcement has physical, magic, spiritual character. Putting it in other words, it enforces a magician in every sphere of life that he or she dares to wish - from boosting the mind, possibilities of thinking, to success in magic.
The sign on the amulet represents the addressing to Tyr, the one of the main Germanic-Scandinavian deities, one-handed God of the honor and war. This runic ligature appeals to Him and serves as a conductor of the energy that feeds the owner of the amulet.
That is why, if you are a starter magician that seeks the hand in front of possible difficulties, or an already experienced one that needs a support, this amulet is just the right thing for you. It will help you to not give up or give in, reinforce the features needed by you, foster in development of desired spheres of life.


Please be attentive to the information about international delivery which you can find there 
very amazing piece! exactly what I wanted!
Im excited for it to arrive :))
Absolutely beautiful piece! I love it. Got to menfaster than I expected too.
I like this moon bracelet! I feel it masculine with feminine seed. Quick delivery. Thank you.
Great necklace! Quick delivery. Thanks a lot!